Pentax-110 24mm f/2.8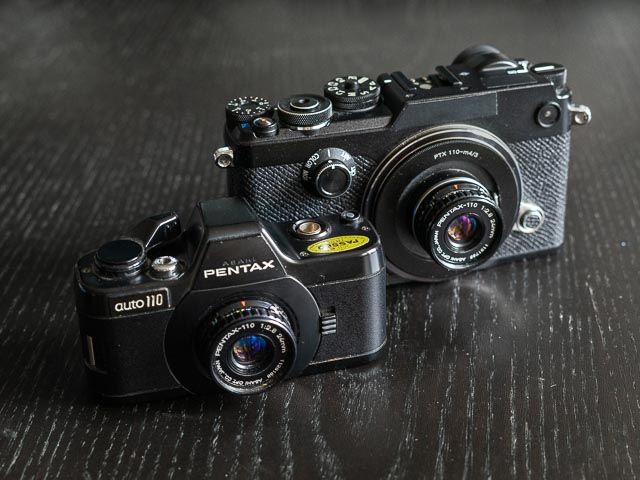 Here you can see both my copies of the Pentax-110 24mm f/2.8 lens, one mounted on an Olympus Pen-F and the other mounted on a Pentax Auto 110.
In 1978 Pentax launched one of their oddest and most adorable cameras ever! The Pentax Auto 110 was a full system SLR with through-the-lens metering, interchangeable lenses and a comprehensive system of accessories including flash units, auto-winders and filters. It was designed to use 110 film producing 13x17mm negatives on 16mm film loaded into drop-in cassettes. The camera with the standard 24mm lens weighs a mere 172 grams (the 24mm lens itself weighs just 13 grams!). And the entire system could be held in the palm of your hand.
If the 110 negative size sounds familiar you're probably a M4/3 user! It just happens to be the same size as a M4/3 sensor, which makes the Pentax 110 lenses ideal candidates to be adapted to a M4/3 camera. The system consisted of 18, 24, 50 and 70mm fixed focal length lenses, plus a 20-40mm zoom (double the focal lengths to get 35mm equivalents). The lenses have no aperture diaphragm as the Pentax Auto 110 had a combined shutter/aperture mechanism built-in to the camera. All the lenses have maximum apertures of f/2.8 and because they don't have diaphragms you can't stop down the lenses… you have to use them wide open all the time.
So are these lenses worth adapting to your M4/3 camera?! Well, for everyday photography probably not, but as a fun (and reasonably inexpensive) experiment…? Definitely! You can by a Pentax 110 to M4/3 adapter on eBay for around £15-20 and the lenses themselves will cost £5-15 (except the 70mm telephoto and 20-40mm zoom which are quire rare… expect to pay around £35-70).
Bearing in mind the simplicity of the lenses, and the fact that you have to shoot with them permanently wide open, the results are from this lens are surprisingly good. Let's face it, it's not going to beat more-or-less any modern lens in the sharpness stakes, but it's still pretty sharp. With a focal length of 24mm and an aperture of f/2.8 you're not going to get super shallow depth-of-field, but I rather like the bokeh none-the-less.
Examples
Click on any image to make it bigger.
The first 4 of my samples look super soft and glow-y don't they? That's because there was a massive finger print on the lens! When you're dealing with your second copy of a lens that is only worth £5-10 in the first place you tend not to be super worried about getting a finger print on your lens! And I have to say I quite like the soft focus result…
All the shots that follow are after I cleaned the finger print of my lens ha ha!