Canon 50mm f/1.2 (Leica screw mount)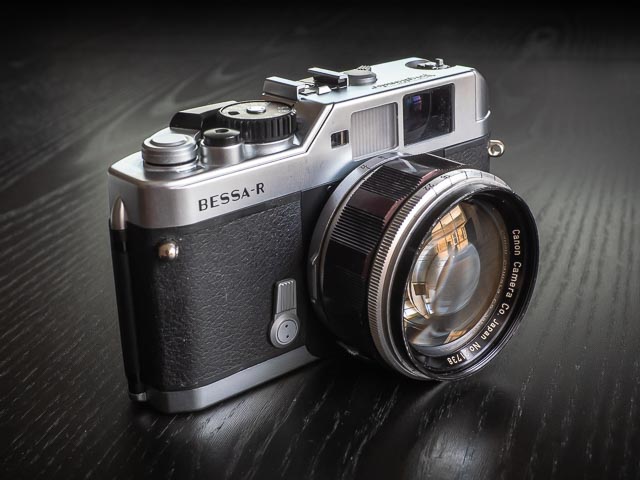 Here you can see the Canon 50mm f/1.2 lens mounted on Sony A7II, Olympus Pen-F and Voigtländer Bessa-R cameras.
Between 1935 and 1968 Canon made a well-respected range of rangefinder cameras that used the L39 Leica screw mount. They provided a popular and lower-priced alternative to the famous Leica cameras. When Leica switched from the L39 Leica screw mount to the M bayonet mount in 1954 Canon continued to produce cameras and lenses with the L39 Leica screw mount. This means that it is possible to find Canon rangefinder cameras and lenses in the L39 mount that are much more modern than any Leica L39 camera.
The lens you see here is the Canon 50mm f/1.2 lens introduced in 1956 as the fastest lens ever made in the L39 screw mount. Canon also made a very famous 50mm f/0.95 lens but that actually used a special bayonet mount that is compatible with only a limit number of Canon models, so I'm going to give the f/1.2 lens the prize! The Canon 50mm f/1.2 lens is very compact by modern standards: it weighs around 320 grams, is just 39mm long and takes 55mm filters.
This lens has one very strange, and frankly rather annoying feature: whenever you focus to infinity the focusing ring instantly and automatically locks. You have to press a button to unlock the focusing ring. Whoever though this was a good idea is a total… well… I'm too polite to say, but I bet photographers all over the world hate this feature as much as I do! I honestly can't imagine any situation in which this is actually useful! I have read online that many owners of this lens have the infinity lock removed, but I don't want to permanently damage my lens so I just live with it.
Because the rangefinder cameras this lens was designed for are just not suitable for close-up photography this lens has a minimum focusing distance of 1m, compared to around 45cm for a typical SLR 50mm lens. Not a big deal, but worth keeping in mind.
This lens is somewhat rare, and therefore not cheap (unless you're used to Leica lens prices, because by comparison this lens is available for pocket money!). Expect to pay around £250-300 for one in good condition.
But enough of the geeky history lesson…! what kind of images does this lens make? Is it actually worth the money?!
As soon as I saw my first photographs from this lens (from an Olympus Pen-F M4/3 camera as I hadn't acquired my Sony A7 at that point) I knew this lens was going to become a firm favourite! And that feeling only became stronger when I tried it on my Sony A7.
When used stopped down to something like f/5.6 or f/8 this lens is sharp and contrasty… perfectly good enough for the needs of my 20 and 24 megapixel cameras. But let's face it, you don't buy a lens like this to get photographs at moderate apertures that really don't look very different to those you'll get from a modern lens. You buy it to get a distinctive look they is very different from modern lenses and that means using it at f/2 or faster.
Once you get to f/1.2 you will see things that would earn this lens a very bad review indeed if it were a modern lens: expect low contrast and catastrophic chromatic aberrations. But these things give a character I really enjoy. The bokeh (i.e. the out-of-focus portions of the image) can be something of a mixed bag. If you have a background with a fine texture (e.g. small stones) at a distance of 1.5-2 metres from the subject the bokeh can get rather busy, even at f/1.2. But in many other circumstances the bokeh in extraordinary… highly distinctive and unlike anything else I have seen.
And for me this is the essence of using vintage manual focus lenses. But at the end of the day you have to judge for yourself, which brings us to some sample images.
Examples
Canon 50mm f/1.2 (Leica screw mount) mounted on an Olympus Pen-F M4/3 camera
This set of 4 images was shot in Greyfriars Kirkyard in the centre of Edinburgh on an Olympus Pen-F M4/3 camera. On such a camera this camera gives a field of view similar to a 100mm lens on a full frame camera. M4/3 cameras have a somewhat underserved reputation for being unable to produce shallow depth-of-field images. I think you'll agree that given the right lens a M4/3 camera can give very shallow depth-of-field indeed. The black and white images are converted, as usual, in Silver Efex Pro and the colour images were lightly processed to taste in Adobe Lightroom.
Canon 50mm f/1.2 (Leica screw mount) mounted on a Sony A7II full-frame camera
These images were also shot in Greyfriars Kirkyard, this time on a full frame Sony A7II. They have been processed using a set of curves designed to mimic the effect of Lomography Metropolis film. I'm not sure I've got all that close to the look of this film, but the de-saturated colours and high contrast seem to suit these graveyard images. Note the completely de-focused photograph which gives an idea of how unusal the bokeh can be.
This final set of 4 images were also shot on the Sony A7II, this time at the British Museum in London.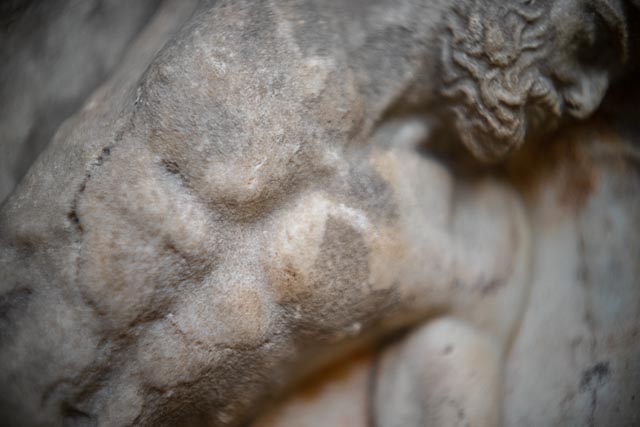 Canon 50mm f/1.2 (Leica screw mount) mounted on a Voigtländer Bessa-R film camera
As much as I love using this lens adapted onto digital cameras, I knew as soon as I bought it that I wanted to use it on a film camera too. I considered getting the Canon 7 rangefinder camera that this lens was regularly sold with, but in the end I plumped for a much more modern Voigtländer Bessa-R. All these photographs were shot on my favourite 35mm colour negative film, Kodak Portra 160.