Sony Cyber-shot DSC-R1
Introduction
Specification summary

| | |
| --- | --- |
| Launch date | Sep 2005 |
| Camera type | Advanced digicam with electronic eye-level viewfinder ("bridge-camera" style) |
| Camera size | 995 grams 139 x 168 x 97 mm (inc. battery) |
| Sensor type | CMOS |
| Sensor size | APS-C (21.5 x 14.4 mm) |
| Resolution | 3888 x 2592 (10 megapixels) |
| Lens | 14.3 - 71.5mm f/2.8–4.8 (35mm equiv. 24 - 120mm, 5x zoom ratio) |
Looking at the criteria I set out for this collection of classic digital cameras, I have no personal connection with this camera, it isn't all that rare, it most certainly isn't beautiful! But it is technically interesting and it does play an important role in the development of camera technology generally, and in the development of Sony's camera technology specifically.
The Sony Cyber-shot DSC-R1 was launched in September 2005, which at the time of writing (2023) is nearly 18 years ago! Practically a whole lifetime in the context of digital cameras. It was the last camera in a long line of Sony digital "bridge" cameras aimed at photographic enthusiasts with reasonably high zoom ratio lenses that started with the Sony DSC-D700 way back in 1998. It was also the world's first fixed lens, non-SLR, camera with a large APS-C sensor. It was also Sony's first ever camera with an APS-C sensor, the world's first fixed-lens camera with a CMOS sensor, and the first camera with a real-time histogram visible while you were composing you your photographs.
This camera could be regarded as Sony's first warning shot to their long established competitors (by which I mean Nikon and Canon!) that they really did intend to become the market leader in serious photographic equipment… an intention on which they arguably fully delivered on. But I would say that the R1 is a crucial part of the development of digital photography for a slightly different reason: When people think of mirrorless cameras, they quite understandably think of the first M4/3 cameras; the Panasonic Lumix G1 (launched in 2008) and the Olympus Pen E-P1 (launched in 2009). These cameras have all of the essential features of a mirrorless cameras: they have electronic viewfinders (EVF) or LCD monitors to provide a viewing your subject through the same lens lens the photograph will be taken, rather than a mirror based optical viewfinder, they have large SLR sized sensors, and they have interchangeable lenses. But suppose we strike the last of those features off the list… suppose we concentrate instead on the combination of a large sensor with an electronic viewfinder instead of the mirror-based optical viewfinder. Then it's this camera, the Sony Cyber-shot DSC-R1 (launched 3 years earlier in 2005) that becomes the world's first mirrorless camera!
As Sony's first ever camera with an APS-C sensor, it should come as no surprise to find the R1 was right at the top of Sony's 2005 digital camera line-up. You can see how it fits in with the rest of the line-up in the Sony Digital Cameras and Printers Fall 2005 brochure (PDF)
Specification
Price
US: $999
Body material
Plastic
Sensor
• 21.5 x 14.4 mm CMOS sensor
• RGB Color Filter Array
• Built-in fixed low-pass filter
• 10.8 million total pixels
• 10.3 million effective pixels
• 3:2 aspect ratio
• 5.49 µm pixel pitch
Images sizes
• 3888 x 2592 (10M)
• 3264 x 2176 (7M)
• 2748 x 1856 (5M)
• 2160 x 1440 (3M)
• 1296 x 864 (1M)
Movie mode
None
File formats
• RAW (.SR2, records a JPEG at the same time) *
• JPEG (EXIF 2.2) - Fine, Standard
* Effectively a RAW+JPEG setting
File sizes
• RAW: 20.0 MB + 3.6 MB JPEG (10M FINE)
• 10M FINE JPEG: 3.6 MB
• 10M STD JPEG: 2.3 MB
• 7M FINE JPEG: 2.6 MB
• 5M FINE JPEG: 2.0 MB
• 3M FINE JPEG: 1.4 MB
• 1M FINE JPEG: 0.5 MB
* All taken at ISO 160, JPEG sizes will increase with noise / detail
Image Processor
"Real Image Processor"
Lens
• 24 - 120 mm equiv.
• 5x optical zoom
• Carl Zeiss T*
• F2.8 - F4.8
• 12 elements in 10 groups (4 aspherical)
• Lens cap and flower hood included
Zoom control
• Mechanically linked
• Zoom ring at front of barrel
Lens Thread
67 mm
Digital zoom
• Precision Digital: 2x (all image sizes)
• Smart: Increases at smaller sizes
Focus modes
• Auto Focus
• Manual Focus
Auto Focus Modes

• Single
• Monitor
• Continuous

Auto Focus Areas
• Multi-Point AF (5 area auto select)
• Center AF
• Spot AF (flexible)
AF Illumination lamp
• Yes, Orange lamp
• Range: (W) 2.3 m, (T) 2.7 m
Manual Focus
• Focus ring at rear barrel (focus by wire)
• AF button active in MF mode
• Full screen magnification during MF (high resolution)
Normal focus range
50 cm (19.7 in)
Macro focus range
35 cm (13.8 in)
Sensitivity equiv.
• Auto (160 - 400)
• ISO 160
• ISO 200
• ISO 400
• ISO 800
• ISO 1600
• ISO 3200
Metering

• Multi-pattern
• Center-Weighted Average
• Spot

Min shutter
• Auto: 1/8 sec
• Program AE: 1 sec
• Aperture Priority: 8 sec
• Shutter Priority: 30 sec
• Manual: Bulb (3 mins)
Max shutter
1/2000 sec (all exposure modes)
Shooting Modes
• Auto
• Program AE
• Aperture Priority
• Shutter Priority
• Manual
• Scene mode: Twilight, Twilight Portrait, Landscape, Portrait
Aperture Priority
• Wide: F2.8, F3.2, F3.5, F4.0, F4.5, F5.6, F6.3, F7.1, F8, F9, F10, F11, F12, F14, F16
• Tele: F4.8, F5.6, F6.3, F7.1, F8.0, F9, F10, F11, F12, F14, F16
Shutter Priority

30, 25, 20, 15, 13, 10, 8, 7, 5, 4, 3, 2.5, 2, 1.6, 1.3, 1, 1/1.3, 1/1.6, 1/2, 1/2.5, 1/3, 1/4, 1/5, 1/6, 1/8, 1/10, 1/13, 1/15, 1/20, 1/25, 1/30, 1/40, 1/50, 1/60, 1/80, 1/100, 1/125, 1/160, 1/200, 1/250, 1/320, 1/400, 1/500, 1/640, 1/800, 1/1000, 1/1250, 1/1600, 1/2000 sec

Manual Exposure
Any combination of aperture and shutter speed above plus 'Time' which allows for very long exposures of up to three minutes.
Exposure Compen.
• +/- 2 EV
• 0.3 EV steps
• Via rear command wheel
AE Lock
Yes, dedicated button
Auto Bracketing
• 3 images
• 0.3, 0.7 or 1.0 EV steps
Noise reduction
• Clear Color
• Luminance NR
• Slow Shutter NR (slower than 1/25 sec)
Color space
• sRGB (Standard, Vivid)
• Adobe RGB
Image Parameters

• Color mode: Standard, Vivid, Adobe RGB)
• Saturation: +, 0, -
• Contrast: +, 0, -, AGCS
• Sharpness: +, 0, -


Picture Effects
• Off
• B&W
• Sepia
White Balance
• Auto
• Daylight
• Cloudy
• Fluorescent
• Incandescent
• Flash
• Manual
WB Fine-Tune
Yes, +/-3 levels
Continuous
• 3.0 fps
• Maximum 3 frames *
* As tested on our pre-production unit
Built-in Flash
• Pop-up (powered)
• Auto / Manual pop-up
• Range: (W) 8.5 m, (T) 5.0 m (Auto ISO)
Flash modes

• Auto
• Auto with red-eye reduction
• On
• On with red-eye reduction
• Slow sync
• Slow sync with red-eye reduction
• Off

Flash compensation
• +/- 2 EV
• 0.3 EV steps
External flash
• Hot shoe
• ACC terminal
Self-timer
Yes, 10 sec delay
Remote control
Optional wired
Time-lapse recording
No
Video out
Yes, selectable NTSC / PAL
Orientation sensor
No
Storage
• Memory Stick / Memory Stick Pro
• Compact Flash Type I/II
• Supports FAT32 (cards over 2 GB)
• No storage included
Viewfinder
• Electronic Viewfinder with dioptre adjustment
• 0.44" TFT LCD
• 235,200 pixels
LCD
• 2.0" TFT LCD
• 134,000 pixels
• Anti-reflective coating
• Flip-up and twist (top mounted)
Playback zoom
Yes, x1.1 - x5.0
Connectivity
• USB 2.0 (Hi-Speed)
• DC-IN
• A/V Out
• ACC
Power
• Lithium-Ion InfoLithium NP-FM50 (1200 mAh)
• Supplied AC-L15 adapter / charger
Weight (inc. battery)
995 g (2.2 lb)
Dimensions (inc. grip)
139 x 168 x 97 mm (5.5 x 6.6 x 3.8 in)
The Sony Cyber-shot DSC-R1 in use
Sony made the serious photographic pretentions of their new big-boy clear by making that fixed lens a very impressive Carl-Zeiss 14.3-71.5mm (24-120mm equiv.) f/2.8-4.5 lens with Carl-Zeiss' famous T* coatings. This lens has a traditional mechanical zoom ring and a traditional looking, but not so traditional in reality, fly-by-wire focusing ring. But given that this camera doesn't really have a high enough resolution electronic viewfinder for truly confident manual focusing, this seems like a reasonably compromise. And the R1 (as I'll call it from now on) was a very big boy indeed, weighing in at just shy of 1kg.
And the R1 certainly feel big in the hand, at least it does in my hands. I don't think my hands are particularly small… just normal average man hands really, yet that grip is too big to be comfortably held for long periods. And despite the weight, the R1 does feel a bit cheap and plasticky. These two factors to spoil the otherwise rather good ergonomics.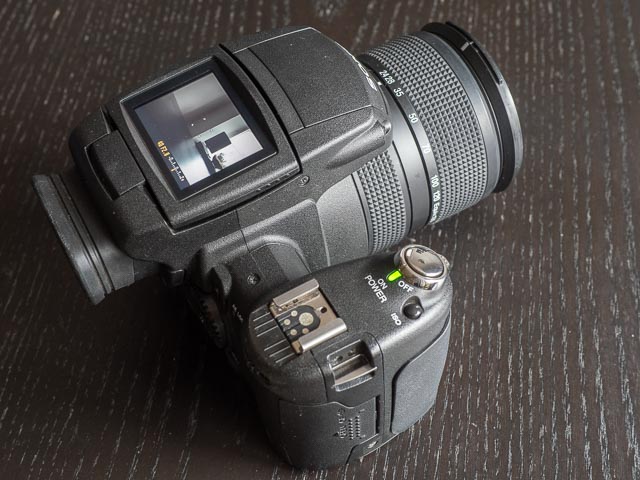 And Sony certainly gave the R1 some unusual ergonomic design touches, chief of which is the LCD monitor. Rather than being in the usual location on the back of the camera (roughly on the same level as the lens), Sony placed it on top of the camera above the lens. The monitor is fully articulate so it can be positioned to aid both high-level and low-level shooting positions, and it can be laid flat, which makes it work a bit like the waist-level viewfinder on an old-fashioned medium format film SLR camera. This is actually a really nice way of shooting with the R1, or at least it would be except for one problems. Sony fitted the R1 with a sensor that can automatically switch it to the eye-level viewfinder when you lift the camera to our eye… unfortunately this will often activate if you hold the camera too close to your tummy when using the LCD monitor as a waist-level viewfinder. There is a switch on the back of the camera that allows you to manually switch between the LCD monitor and the eye-level viewfinder, which solves the problem, but you will have to get used to that manual switching operation.
And there is another ergonomic triumph for the R1: I think the lens cap is one of the best and most usable lens caps I have ever come across. It's really easy to fit and remove, even when the lens hood is in use. A trivial thing? Well, perhaps, but credit where credit is due, eh?!
I think the EVF and the LCD monitor are the biggest area where the R1 shows its age. They're perfectly big and clear enough for lining up and composing your shot, but not for confidently establishing that you've got what you want in focus. So for me this is essentially a camera for auto-focussing, not for manual focussing.
Talking about the back of the camera, let's have a look at the controls you'll find there: Here you'll find the mode dial with a green auto-absolutely-everything mode, the familiar PASM modes, a movie mode and some scene modes. Next to that you'll find 2 slider switches for setting up the viewfinder behavior. The 1st one switches between 'preview' mode, in which the viewfinder will show you the effects of under- and over-exposure, and 'framing' mode, which won't. And the next one is the switch mentioned above for switching between the EVF and the monitor, or enabling automatic switching between the two. Under that you have four buttons, the first 3 of which are used in combination with the main command dial (top left) for controlling metering pattern, drive mode and the self-timer. The last of these button only works in playback mode for magnifying the image.
Next you will find the sub command dial. The vast majority of the time this is used to set exposure compensation, but it isn't labelled as such because, but occasionally it is used for other things, for example, in manual mode the main command dial is used to set shutter speed and the sub command dial is used to set aperture. In the middle of the sub command dial there is a very useful joystick which is used for navigating menues and selecting focus mode and selecting the desired focus point when in manual focus point selection mode. Above that there is an auto exposure lock button and below, a button for accessing the menus.
On the top right of the back of the camera there is the main command dial, which is perfectly positioned for your thumb to operate, a display button for switching between the various information modes used by the EVF and the monitor (including a mode with a fully time live histogram… the first camera with an APS-C sized sensor to offer such a feature!) and a slider switch for switching between the 2 card slots, one for standard CompactFlash cards, and one for Sony's proprietary format: MemoryStick.
Oh yes, and one more control on the back: right under the EVF you can see a lever for adjusting the dioptre of the viewfinder to (hopefully!) mean you won't need your glasses. It only just went far enough to work for my eyesight.
The top of the camera has very few controls to talk about. The main one is the shutter buttons surrounded by the power switch, and next to is is a button used in combination with the main command dial for setting the ISO setting. I found the you ISO is best kept to 1600 or less. There is an automatic mode for ISO which, fortunately, does just that. But bear in mind that the auto ISO mode isn't customisable in any way. You can also see the hotshoe built into the top of the hand grip and the LCD monitor and built-in flash. And around the lens you can see the zoom ring and the manual focussing ring (tucked under the built in flash).
The final set of controls are on the left side of the camera, well placed for the thumb of your left hand to operate. Here you'll find a button for popping up the built-in flash unit. A button used in combination with the main command dial for setting white balance, and finally a rotory switch for setting the focus mode. In the centre of this control is a button that allows you to automatically move the the correct focus when you're in manual focussing mode. Very useful, or at least it would be if the EVF was good enough to make the manual focussing mode itself more usable! So as you can see a very good selection of control that make menu diving a rare occurrence.
At this point is might be worth saying something about the sensor. It's a 10.3mp CMOS session that at 21.5 x 14.4 mm is very slightly smaller than most APS-C class sensors. The fact that is a CMOS sensor is important. If you want to know the full story of CMOS vs. CCD you'll have to Google it (honestly, whole chapters have been written on the subject!!), but one of the big differences between the two sensor technologies is the fact that CMOS sensors use much less power. Combine a large sensor with CCD technology and any live-view system would over-heat and burn-out in a matter of seconds, but CMOS technology makes live-view on large sensors possible. And obviously live-view is of central importance to a camera like this with no optical viewfinder. This is actually the very first non-interchangeable lens camera to use a CMOS sensor, and the R1 uses it to both provide live view, and enable a real-time histogram display in both the EVF and on the monitor. So this camera pioneered technology without which mirrorless interchangeable lens cameras would be impossible.
Sony Cyber-shot DSC-R1 results
So having gone on at length about what this camera is like to use (i.e. a hoot and a half!!) what kind of photographs can you create with this camera? Well, this was the first vintage digital camera I have so far used that really stopped me in my tracks when I first saw the results and made me just go "wow!". To be honest, part of this was just to do with not really having high expectations. Let's face it, even barely above average results would probably have made me go wow! But I found the results from this camera genuinely are very nice. The first shot below was the very first photo I took with this camera, the first shot I saw after downloading my photos, and the photo that drew that "wow!" reaction. Not because it's an amazing piece of art (it ain't!!) but of the crispness of the details in the leaves.
And have spent the last few weeks writing about early small sensor digicams, the benefits of using a large, high quality, and reasonably high resolution DSLR type sensor really hit home when switching to this camera. There is a subtlety in the tones and transitions that just completely escape a similar vintage digicam. What's more, a long(ish) zoom lens might not be the bokeh-lover's go-to lens, but the sensor in this camera is big enough for very satisfying shallow depth-of-field effect even with a zoom lens, particularly in macro mode. So long as you stay within this cameras capabilities (by which I mean reasonably good light and stationary or slow moving subjects) there's no reason you can't produce large top quality prints from this cameras files.
As usual the colour photographs below have been lightly processed to taste using Adobe Lightroom, while the black and white ones have been processed using Nik Silver Efex Pro.
Links