Pentax EI-2000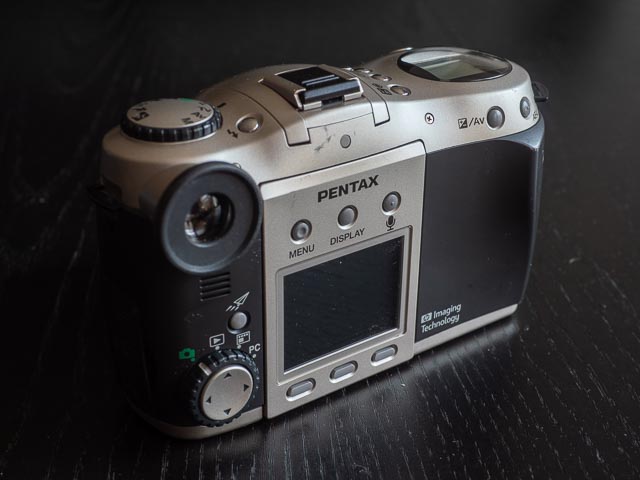 Specification summary

| | |
| --- | --- |
| Launch date | February 2000 |
| Camera type | Advanced digicam with SLR viewfinder (and live view!) |
| Camera size | 144 x 91 x 105 mm 630 grams (inc. battery) |
| Sensor type | CCD |
| Sensor size | 2/3" - 8.6 x 6.9mm |
| Resolution | 1600 x 1280 (2.0 megapixels) |
| Lens | 8.2 - 25.8 mm f/2.8-3.9 (35mm equiv. 34 - 108 mm, 3x zoom ratio) |
The Pentax EI-2000 was launched in February 2000, slightly less than a year after the Olympus Camedia C-2500L. Along with the simpler EI-200 it was Pentax's first foray into digital cameras. The EI-2000 and C-2500L are very similar cameras in many ways: they both have real SLR viewfinders, a similarly sized 2/3" sensors (albeit with 2 instead of 2.5 megapixels), a fixed 3x zoom lens, and a fairly comprehensive set of manual controls. But while the Olympus has controls and ergonomics that are quite different to most film cameras, the Pentax EI-2000 will be familiar to any user of film cameras from the late 1990s and early 2000s. This instantly gives this camera a huge advantage over the Olympus and most other digicams of the era: it comes very close to the user experience of a real DSLR (even if the small sensor doesn't really give the results of a real DSLR!).
If you're thinking the EI-2000 doesn't really look like any other Pentax camera you'd be on to something. This camera was produced in co-operation with Hewlett-Packard, who also released the camera as the Photosmart C912. It's a big and fairly heavy camera, a little larger then the 35mm film AF SLRs that were popular at the time, but it's slightly cheap build quality does disappoint a little when you pick it up.
But unlike most of the competing 2 megapixel cameras from 1999 and 2000, this camera has a user interface that will please any film camera user. There is the afore-mentioned real SLR viewfinder, complete with full exposure information, and real camera like mode and command dials. And a tilting LCD monitor with live-view wil please those used to modern digital cameras. The LCD monitor is every bit as dull as you'd expect of an early digital camera, but the great full-information viewfinder more than makes up for that.
The electronic side of this camera is also interesting: it uses the Digita digital camera operating system, like a small number of other cameras from Minolta and Kodak. The use of Digita allowed 3rd party applications to me uploaded to your camera for expanded functionality, though the fact that Digita was never very popular means very few were ever available. But enterprising hackers did modify the video game Doom to allow it to run on the Pentax EI-2000!
The Pentax EI-2000 was supplied with both a propriety battery, and a holder for AA batteries. But the propriety battery is difficult to find, and the matching charger almost impossible! So if you're going to buy one of these fascinating cameras and you want to actually use it, make 100% sure that the the AA battery holder is included. Here you can see the charger, a )non-working!) propriety battery and the AA battery holder that allowed me to actually try the camera out. You can also see 2 Pentax branded 8mb CF memory cards.
Results
The Pentax EI-2000 turned a rather mixed set of results. At it's best it was capable to giving surprisingly subtle, natural and pleasing results well up with the best of it's contemporary competition. Because of it's relatively large sensor it is capable to delivery some very satisfying shallow depth-of-field you use this camera's excellent close-up feature. But then we come to this camera's Achilles heel: awful, at times ruining, chromatic aberrations (i.e. purple colour fringing in areas of high contrast). And white balance was a bit random at times too. But as with other advanced cameras in the same class (i.e. 2ish megapixels), if you're realistic with print sizes, you can make perfectly nice prints with this camera.
I do most of my b&w conversion in Nik Silver Efex Pro, but like the files from many early low-megapixel cameras, the files from the Pentax EI-2000 didn't respond very well to Silver Efex Pro. So these b&w conversions where done in Adobe Lightroom Classic.
Check out the chromatic aberrations in the first of these color examples!
But by way of compensation, look at the rather nice shallow depth-of-field in these close-up shots.
Links
Pentax EI-2000 against it's competitors
I've now tried a total of 3 cameras in this class (advanced 2 megapixel cameras from 1999 and 2000): the Pentax EI-2000, the Olympus Camedia C-2500L and the Nikon Coolpix 950 and I would rank them as follows:
Usability and ergonomics
Pentax EI-2000 (winning by a large margin!)
Nikon Coolpix 950
Olympus Camedia C-2500L (loosing by a large margin margin)
Features
Nikon Coolpix 950/Pentax EI-2000 tie
Olympus Camedia C-2500L
System and accessories
Nikon Coolpix 950 (great selection of high-quality add-on lenses)
Olympus Camedia C-2500L
Pentax EI-2000
Results
Olympus Camedia C-2500L (maybe 0.5 megapixels is significant in this class!)
Pentax EI-2000 (despite the chromatic aberrations, which all these cameras share to some degree)
Nikon Coolpix 950