Olympus Mju Mini Digital/Olympus Mju Mini Digital S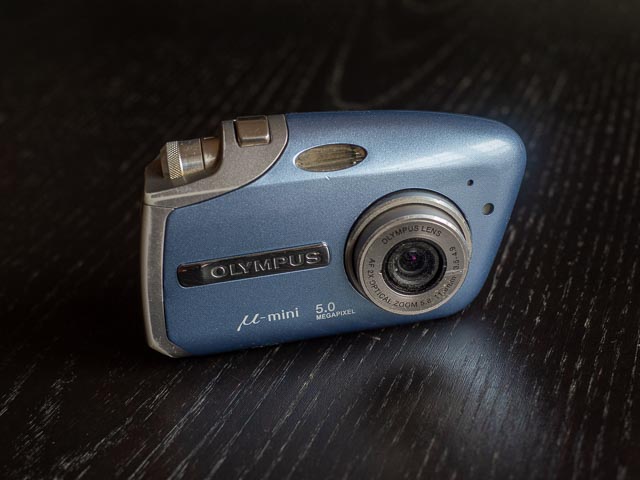 Specification summary

| | |
| --- | --- |
| Launch date | Sep 2004 (Mju Mini)/Feb 2005 (Mju Mini S) |
| Camera type | Ultra-compact point&shoot digicam (no viewfinder) |
| Camera size | 165 grams 95 x 56 x 28 mm (inc. battery) |
| Sensor type | CCD |
| Sensor size | 1/2.5" (5.7 x 4.3 mm) |
| Resolution | 2272 x 1704, 4 megapixels (Mju Mini)/2560 x 1920, 5megapixels (Mju Mini S) |
| Lens | 5.8 - 11.6 f/3.5–4.9 (35mm equiv. 35 - 70 mm, 2x zoom ratio) |
The Olympus Mju Mini Digital (known as the Olympus Stylus Verve Digital in the US) was introduced in September 2004 as a completely new branch of their extensive range of their extensive Mju line of style oriented digital compacts. In fact the specification was very similar to the Mju 410 but with a smaller battery and a 2x zoom instead of a 3x zoom to allow for an even more compact design. But both cameras had the same 4 megapixel sensors and simple snap-shot oriented specification.
Just six months later, in February 2005, the Olympus Mju Mini Digital was replaced by the Olympus Mju Mini Digital S. The new camera was nearly identical, except for some minor styling updates and a 5 megapixel sensor instead of the earlier camera's 4 megapixel sensor. Curiously the Olympus Mju Mini Digital S model name didn't appear on the new camera. On the camera itself the old camera was labelled µ-mini DIGITAL 4.0 megapixel, while the new camera was labelled µ-mini 5.0 megapixel.
These cameras are in my collection for one reason and one reason only: their beauty! There is nothing remotely technically interesting about them… but just look at them! The unusual, softly curved, body shape; the lens cover that sits perfectly flush with the body; the tiny size; and those colours!
In the mid 2000s releasing digicams in a choices of colours was completely de rigueur amongst all the big camera manufacturers, but the Mju Mini came in an unusually wide range of colours. The original Mju Mini came in 6 beautiful metallic colours (Jewellery Silver, Pure White, Cosmic Black, Crystal Blue, Velvet Red and Copper Orange). The Mju Mini S had a new glossy, lacquered, finish and, according to the launch announcement on DPReview 4 colours: Black, Champagne, Blue and Pink. But out there in the wilds of eBay I have spotted the Mju Mini S in silver too. That's a total of 11 different colours/finishes across both models.
Collecting notes
I see the Olympus Mju Mini as a sort of modern equivalent of the Coronet Midget bakelite camera from the 1930s, but with even more colours to collect! So in early 2023 I set myself the task of collecting them all! Just like with the Coronet Midget some are rarer than others. For the original Mju Mini the silver and orange seem to be the most common colours, with black and being fairly rare, blue rarer still, white and red being very rare indeed. So far I haven't seen a single red or white one for sale on eBay. The Mju Mini S seems to be most common in Black, with silver and blue being a little rarer, and champagne and pink being the rarest colours.
The finish of these camera seems to be quite delicate, and finding them in good condition is quite a rare thing. But it does seem to be quite common to find them with the original box and packaging.
For the 5 megapixel Mju Mini S in particular, finding them in working condition seems to be even rarer than finding one in good cosmetic condition.So far I have bought 7 of these cameras. Out of 4 copies of the original 4 megapixel Mju Mini, 3 have worked. That's a 75% hit rate (the one that didn't work was returned to the seller), while out of 3 copies of the later 5 megapixel Mju Mini S, out the 1 has worked (and even that one is weird, as I'll relate in the results section), that a hit rate of just 33%! (The black one was being sold as untested by a charity shop, so I kept that one. And the pink one was sold a fully working, and was returned to the seller when it turned out to have the dreaded 'E' number error messages. But the post office returned it as addressee no longer at address, so eBay forced through the refund and so far the seller hasn't asked for it back.)
Olympus Mju Mini Digital detailed photographs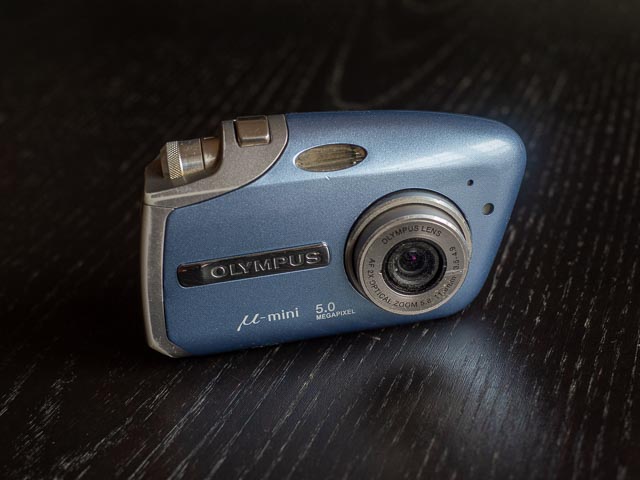 Olympus Mju Mini Digital accessories
The Mju Mini was a simple point and shoot camera, not a serious system camera, but that doesn't mean there were no accessories at all!
Case
Olympus made a variety of cases in different colours shaped to fit the unusual body shape of the Mju. And since both models are the same size they all fit both models. Here I have the plain black one looking good with the black Mju Mini.
CWPC-01 water resistant case
Olympus also made the a water resistant case which protected the camera from water down to a depth of 3 meters. So it was mainly for use in swimming pools rather than for serious scuba diving! But all the controls were replicated on the outside of the case so you never had to remove it.
Olympus Mju Mini Digital/Olympus Mju Mini Digital S results
As I said above, the Mju Mini is a pretty standard 4 megapixel camera on the inside, and the camera itself provides very limited options for manual control. It's capable of perfectly decent results in good lightling conditions, but don't expect it to cope well with low light scenes or scenes with a large dynamic range. All the following images were shot with my Copper Orange 4 megapixel Mju Mini. Both the black and white ones and the colour one were edited in Adobe Lightroom, since these low resolution files don't respond well to my normal tool of black and white conversions: Nik Silver Efex Pro 2.
So what about the 5 megapixel Muji Mini S? Well, this is were things start to get weird! As I said above I have 1 working Mju Mini S, in the very nice ice blue colour. But when I downloaded the photos I noticed that they were same 2272x1704 pixels (i.e. 4 megapixels) as my shots from the original Mju Mini. I went into the camera menus to see if I just had the wrong image quality setting, but I only saw exactly the same settings as on the original Mju Mini… no option at all for 2560x1920 which there should be according to the user manual. What's more the value for the camera field in the EXIF data is the same as the 4 megapixel original model (i.e. "u-miniD,Stylus V"). It seems I have an original 4 megapixel Mju Mini trapped inside the body of a 5 megapixel Mju Mini S! Very curious!!
I'll update this section with some real 5 megapixel images from the Mju Mini S when I can get my hands on one with real Mju Mn=ini S innards, but in the interests of completeness, here are some images from my ice blue Mju Mini S with (apparently) Mju Mini innards. As above, both black and white and colour have been processed entirely in Adobe Lightroom.
I thought I'd save my favourite one 'till last!
Links