Olympus Camedia C-2500L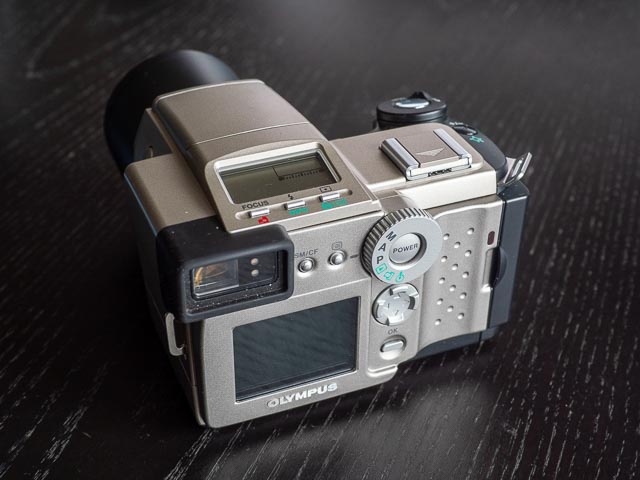 Specification summary

| | |
| --- | --- |
| Launch date | March 1999 |
| Camera type | Advanced digicam with SLR viewfinder (and no live view) |
| Camera size | 109 x 80 x 128 mm 530 grams (inc. battery) |
| Sensor type | CCD |
| Sensor size | 2/3" - 8.6 x 6.9mm |
| Resolution | 1712 x 1368 (2.5 megapixels) |
| Lens | 9.2 - 28mm f/2.8-3.9 (35mm equiv. 36 - 110mm, 3x zoom ratio) |
The Olympus Camedia C-2500L was launched in 1999 as a follow-up to 1998's C-1400XL and 1997's C-1400L. Like its predecessors, the C-2500L was a sort of halfway house between a small sensor 'digicam' and a DSLR with a large sensor. It provided a real through-the-lens optical eye-level viewfinder, just like a regular DSLR, but combined it with a small 2/3" sensor (8.6 x 6.9mm, though that is an estimated size… the size for a 2/3" sensor is normally given as 8.8 x 6.6 mm, but that is for a 4:3 aspect ratio, and the C-2500L actually has a 5:4 aspect ratio). But that is still quite a bit larger than the more typical 1/2" (6.4 x 4.8 mm) sensors found in lower end digicams.
The C-2500L competed directly with other high-end digicams like the Nikon Coolpix 950, but the SLR viewfinder and the slightly larger than average 2/3" sensor with a generous (for the time) 2.5 megapixels meant you had to pay quite a but more. It sold for approx. $1300, compared to approx. $900 for the Nikon (which had a more typical 2 megapixel 1/2" sensor). But apart from that SLR viewfinder and the tempting high-end sensor, how did the C-2500L compare to the Nikon Coolpix 950 in everyday use? Well, despite being something of an Olympus fan-boy, and despite the fact that having a real SLR viewfinder might make the camera seem more serious, I think the Nikon is a much more usable camera for serious photography.
There are a number of reasons for this: firstly is the build quality, which seems rather plasticky on the Olympus compared to the Nikon. Secondly the Olympus is an SLR from a period long before live-view for digital SLRs was anything more than a gleam in the camera designers eye, so you don't get the flexibility of the twisty body and rear monitor with live-view that makes the Nikon so great for low-level and high-level shooting. And while that lovely mode dial on the back of the C-2500L might look very photographer friendly, the rather basic nature of the cameras other controls means that in real usage the camera fall a bit flat. In aperture priority more you just get a choice of two apertures, wide and narrow, with the precise f-stop you get depending on the focal length the 36-110mm (35mm equiv.) zoom lens is set to. You just get symbols of wide and narrow on the top LCD screen… the camera never actually tells you the precise aperture you're going to get. The Nikon on the other hand gives you a proper SLR style command dial, which make setting basic exposure parameters much more intuitive.
But perhaps most seriously, that lovely SLR viewfinder, which is the only way of framing your photographs, gives you almost no information at all… just a red lamp to warn of slow shutter speed, and a green lamp to confirm focus has been achieved. This means that in reality the viewfinder has far more in common with the basic 'tunnel' type optical viewfinder on a typical low-end digicam than it does with a proper DSLR. You'll have to move your eye away from the viewfinder regularly if you're going to make use of any of the manual settings. But on the Nikon you use the rear monitor for framing up your photographs most of the time. It may be horribly dim, but at least you get lots of useful exposure information, and at least the tunnel type eye-level optical viewfinder is there to help out when the sun starts to peep out.
Results
So, the Nikon definitely beats the Olympus in the usability stakes, but what about the image quality stakes? This is where the Olympus starts to claw back a few points!
To start with the Olympus has some nice features that make using it in 2023 at least possible: the Olympus, like the Nikon, uses common AA sized batteries, so no problems hunting down proprietary batteries that are no longer made. And you also get duel memory card slots: the slot for the now well-and-truly defunct SmartMedia memory card format is joined by a slot for the much easier to find CompactFlash format… just bear in mind that you need to use a 128Mb or smaller card.
Unfortunately, although my C-2500L is in beautiful cosmetic condition, it isn't in perfect working conditions. I find that only about 1 in 5 shots actually get written to the memory card. But that does mean that I never-the-less do have some sample shots to share with you. One thing you might notice about these sample shots is the rather unusal aspect ratio of the sensor. If you think these shots look a bit squarer than normal, your eyes are not deceiving you! The aspect ratio is 5:4 rather than the more normal digicam aspect ration of 4:3. I have to say I rather like this aspect ratio: it perfectly matches the aspect ratio of the traditional 8x10" photographic print.
The C-2500L provide enough resolution for very nice 6x4" and 5x7" prints, and passable 8x10" prints. And as you can see here, this camera is capable of very nice close-ups. At these close up distances you can even get quite satisfying bokeh effects.
This picture of the Old Royal High School in Edinburgh shows some of the limitations of a nearly 25 year old sensor! This photograph was shot in not very good light, and there's some not very attractive noise which makes the colours look a bit weird. In good light the colours are actually very nice.
I think this is my favourite image so far from the C-2500L. It shows off the colours this camea can produce nicely.
Given the problems my C-2500L camera has writing images to the memory card, I doubt I'll be shooting with this camera much in the future. Which is a shame, because despite the usability problems described above this camera is a lot of fun and can produce nice results when you're in the mood for a trip down memory lane!
Links