Nikon Coolpix 950
Nikon Coolpix 900 series history
Specification summary

| | |
| --- | --- |
| Launch date | February 1999 |
| Camera type | Advanced digicam with tunnel type optical viewfinder |
| Camera size | 143 x 77 x 37 mm 480 grams (inc. battery) |
| Sensor type | CCD |
| Sensor size | 1/2" (6.4 x 4.8 mm) |
| Resolution | 1600 x 1200 (2 megapixels) |
| Lens | 7 - 21mm f/2.6–4 (35mm equiv. 38 - 115 mm mm, 3x zoom ratio) |
The late 1990s and early 2000s were something of a heyday for experimentation in camera design. Manufacturers were clearly enjoying the fact that digital technology freed them from the need to all accomodate same 135 (AKA 35mm) film canister. The result was a proliferation of cameras with a wide variety of different shapes and sizes, and Nikon was right at the forefront of this period of experimentation when they launched the 1.2 megapixel Nikon Coolpix 900 in 1998. It sat at top end of their consumer digicam range and featured a novel split body design with the lens, sensor, viewfinder and flash unit in one half and the photographic controls and LCD monitor in the other half. The two halves could be rotated though 270°. This allowed the lens to be pointed backwards so selfies could be composed on the LCD monitor. It also allowed low level and high level photographs to be shot with ease, something that was difficult on boring, old-fashioned, film cameras.
The following year, in 1999, Nikon replaced the Coolpix 900 with the 2 (count them! 2!!) megapixel Coolpix 950 model you see here. The Coolpix 950 kept the same basic body style but used a much tougher and professional feeling magnesium alloy body which set a course that all the remaining Coolpix 900 series cameras were to follow. In 2000 the Coolpix 990 was launched with 3.3 megapixels, and in in 2001 the Coolpix 995 was launched, again with 3.3 megapixels, but this time with a 4x zoom lens. Nikon changed their naming conventions in 2002 when they launched the final camera in the split-body line, the 4 megapixel Coolpix 4500. The fact that Nikon had a model life-cycle of just 1 year at this time tells you how fast things were changing and developing... 5 cameras and a more than 3x hike in pixel resolution in 4 years!
The fact that Nikon wanted to appeal to serious creative photographers is underlined by the extensive array of high quality conversion lenses that were available for when you got bored of the rather limited 38-115mm zoom range.
The Nikon Coolpix 950 in detail
The Coolpix 950 is very well built with a body of reassuring heft made out of magnesium alloy. And despite the fact that it has a basic form that is dramatically different from traditional cameras from the preceding autofocus film era, it has a good range of photographic controls that anybody familiar with cameras from that era will be pretty familiar with.
On the top plate of the control half of the camera you will find the shutter button with a control for the operating mode around it. There are settings for off, recording mode A (labelled Rec A, for taking photographs in fully automatic mode), recording mode M (labelled Rec M, for taking photographs with access to a much wider range of manual controls), and play (for reviewing your photographs on the rear monitor). Behind this are two buttons, one for setting flash mode and second for setting focus mode and the self-timer. These buttons are also used when in Rec M mode for setting ISO and manual focus distance respectively (press the button and use the command dial). You will also find a small LCD status display together and a rubber flap covering the power adapter and video out ports. Finally, just below the shutter button on the front of the camera (and visible on the main photograph at the top of the page), you will find a comand dail that will be familiar to anyone who has picked up a camera fron the late 1980s onwards.
The main feature on the back of the camera are the main LCD monitor for accessing menus and playing back photographs. Above this you will find buttons for cycling though the monitor modes (i.e. off, on and on with information) and accessing the menus. And right where your thumb sits you'll find zoom controls. Under the monitor you'll find buttons for controlling exposure compensation, exposure mode and image quality (press the button and use the command dial). If a button has an alternative function in playback mode this is indicated with gold coloured icons.
On the underside of the control half you'll find the tripod bush, battery compartment and memory card slot. As you can see the battery compartment takes 4 standard AA batteries (either alkaline or NiCD/Lithium rechargeables) and the memory card slot takes Type II Compact Flash cards up to 128mb in size.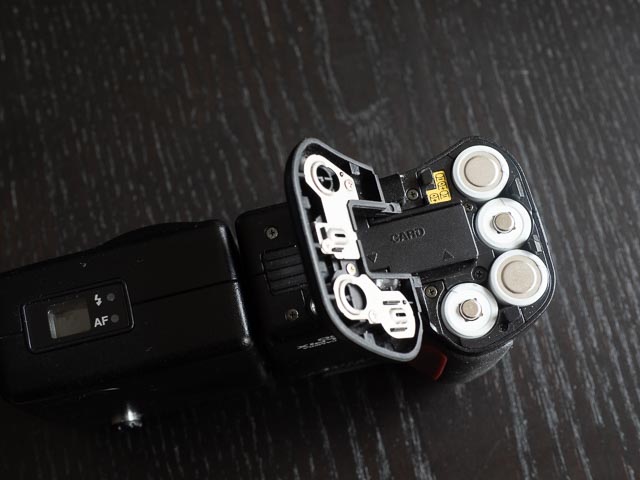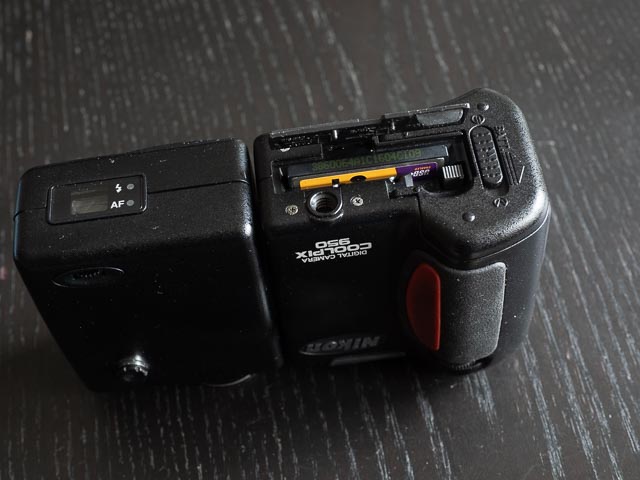 The lens/sensor half contains the 1.92 megapixel (1600 × 1200 pixels) sensor matched to a 3x zoom lens with a focal length of 7-21mm (35mm equiv. 38-115mm). The viewfinder is an eye-level tunnel-type optical viewfinder (with 85% frame coverage) with two indicator lamps: a red one to warn that the shutter speed is low enough to require flash or a tripod to avoid camera shake, and a green one to indicate if focus has successfully been acquired. The underside of the lens/sensor half has a PC socket for connecting an off-camera flash unit. And this is also were the dioptre adjustment control for the optical viewfinder can be found
As previously mentioned, all the photographic controls means you very rarely need to use the menus during day-to-day shooting. In fact you really just have three short menus (navigated using a combination of the zoom controls, shutter button and command dial) to deal with accessed using the 'menu' button, with the menu you see depending on whether you're in play, REC A or REC M mode.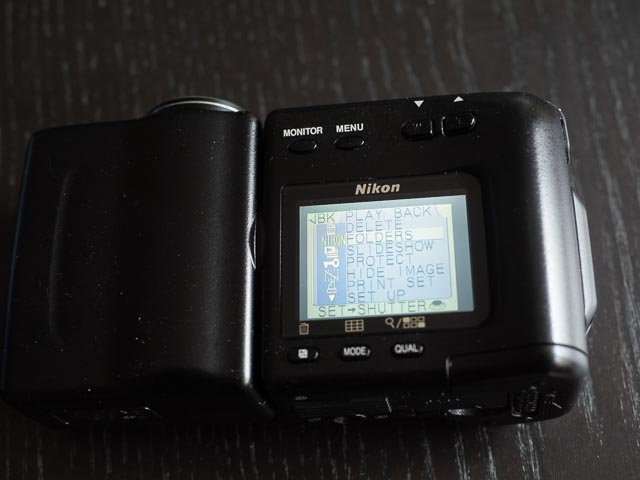 Hit the menu button when in play mode and you get the playback menu which provides options for dealing with recorded images, including deleting them.
Hit the menu button when in REC A mode and you get the set up menu which provides options setting up the camera, including setting the time and date, LCD brightness (three settings: really dark, dark, and very slightly less dark ;-)) and formatting the memory card.
Hit the menu button when in REC M mode and you get the shooting menu which provides all the set up options plus a range of advanced photographic options, including things like white balance, metering mode and a black & white mode.
The Nikon Coolpix 950 in use
In use this camera is something of a mixed bag! There is no denying that it is superbly built, and the wide range of familiar photographic controls make the camera feel like a real photographic tool rather than a digital toy. They also mean menu-diving is a mercifully rare thing. And the flexibility of the twisting split-body design is a joy even 25 years later!
But there's just no getting away from the fact that this camera is a quater of a century old! The main problem is the LCD monitor, which can be come totally unusable even in quite dull conditions. Fortunately there is that eye level optical viewfinder, which may only show you 85% of the frame (significant with 2mp and little opportunity for post-capture cropping!), but is never-the-less a good alternative to the LCD monitor when the image disappears almost completely, as it does quite often. Unfortunately the optical viewfinder can't be used with any of those tasty conversion lenses in any conditions at all.
And digital cameras of this early vintage had some important things that users of more modern digital cameras might take a little time to adjust to. The main one being the completely separate operational modes for recording and playing back images. All modern digital cameras operate in what is usually called a shooting-priority fashion: that is to say whatever you are doing you can always just put slight pressure on the shutter button to return to shooting mode. But on the Coolpix 950 I often found my self stabbing the shutter button wondering why nothing was happening, only to remember that I was in playback mode.
And you have to remember that such an early digital camera provides far less flexibility when it comes to setting light sensitivity (i.e. ISO). In fact the Coolpix 950 really isn't designed to be used at anything other than it's default setting of 80ISO. In REC A mode ISO is indeed fixed at 80. And remember that control I already mentioned for setting ISO when you're in REC M mode? As you can see here it isn't even marked as ISO, instead it has this weird curve icon. Press this button in REC M mode and you can use the command dial to cycle through the settings: def (i.e. the default 80ISO), 100 (which does indeed mean 100ISO), +1.0 (which in practice means 160ISO) and +2.0 (which in practice means 320ISO). Why these options aren't just called 80, 100, 160 and 320 is very puzzling, especially in a camera aimed at photography enthusiasts who are perfectly able to understand what such numbers mean! But you really don't want to use anything other than 80ISO anyway. And if you need any further indication that Nikon really don't want you to use anything other than 80ISO, ISO isn't recorded at all in the EXIF data at all!
The Nikon Coolpix 950 conversion lenses
Nikon made the creative photographic pretensions of this camera clear with a surprisingly large range of high quality conversion lenses: at launch there were 3:
FC-E8: a fisheye lens converter
WC-E24: a 0.66x wide-angle lens converter giving coverage similar to a 25mm lens on a 35mm camera
TC-E2: a 2x telephoto lens converter giving reach similar to a 230mm lens on a 35mm camera
Later on these were supplemented by two more:
WC-E63: a slightly wider 0.63x wide-angle lens converter giving coverage similar to a 24mm lens on a 35mm camera
TC-E3: a 3x telephoto lens converter giving reach similar to a 345mm lens on a 35mm camera
There are all beautifully made with metal barrel. There were supplied with nice cases and the same lens caps Nikon supplied with their SLR lenses. I have two of them:
WC-E63
The WC-E63 screws into the 28mm filter thread of the Coolpix 950's lens and provides a satisfying 24mm equiv. wide-angle. The build quality and image quality are both very high. The barrel is made out of solid metal and the lens weighs in at 135 grams. It's capable of giving sharp and clear wide angle photographs (examples below). All the conversion lenses render the optical viewfinder completely useless, so you are entirely reliant on the LCD monitor for composing your shots. This can be something of a problem given how dim the monitor is, but as accurate composition is slightly less important with a 35mm equiv. focal length of 24mm I found the WC-E63 more enjoyable to use than the TC-E3 telephoto lens.
TC-E3
The TC-E3 3x telephoto conversion lens is built to the same high standards as the WC-E63 lens. As it's considerably larger it weighs nearly twice as much at 265 grams, but the screw thread on both the lens and camera are of sufficient quality to give a stable, if rather large and ungainly combination. It only works when the built-in zoom lens is set to a focal length of 14mm (35mm equiv. of around 76mm) or longer. At the longest focal length it gives a 35mm equiv. focal length of something like 345mm. This is long enough to sometimes make it a real chalenge to even find your subject on the dim LCD monitor, never mind accurately compose a photograph, and for that reason I don't really regard the TC-E3 as a very practical proposition. I would recommend sticking to the TC-E2 2x telephoto conversion lens, or perhaps skipping the telephoto conversion lenses altogether and just sticking to the wide-angle conversion lenses!
The Nikon Coolpix 950 results
Come on… this is a 25 year old 2mp digicam… what are you expecting me to say: "this amazing old digicam is going to blow the socks off your crappy 60mp Sony A7R MkV"? Of course not LOL
But so long as you're realistic in your expectations, this camera can create quite pleasing results. Indeed the files from this camera do make surprisingly satisfying 6x4" prints. But probably best not to take them much further than that. These days this camera is about having nostalgically geeky fun with a fascinating bit of retro tech than creating photographic master pieces to print out on your high end A2 sized printer. But so you can judge for yourself, here are a few examples:
A next couple of photographs were shot with the WC-E63 wide-angle conversion lens. The first one is actually a stitched panorama made from two shots, this has given a wide enough angle of view to get my shadow into the image at the bottom left!
Another 4 images shot with the WC-E63 wide-angle conversion lens, this time processed with the desktop version of Snapseed (R.I.P.! this ancient application has finally stopped working on my new MacBook with an Apple silicon chip :-().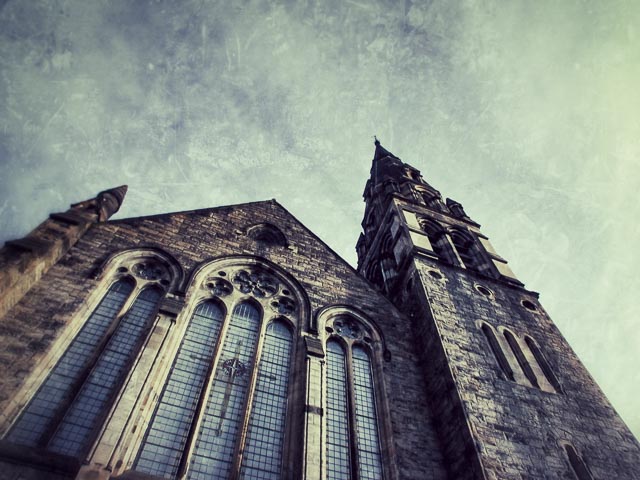 And finally a couple shot with the rather extreme TC-E3 3x telephoto conversion lens. I'm not sure this lens will ever make it out of the gear cupboard again! Although it's capable of satisfyingly sharp images, I found that it really wasn't a very practical or enjoyable proposition trying to find your subject (never mind accurately frame it!) on the very dim LCD monitor of the Coolpix 950. If these two seem rather accurately framed that is more by luck than judgement, I asure you!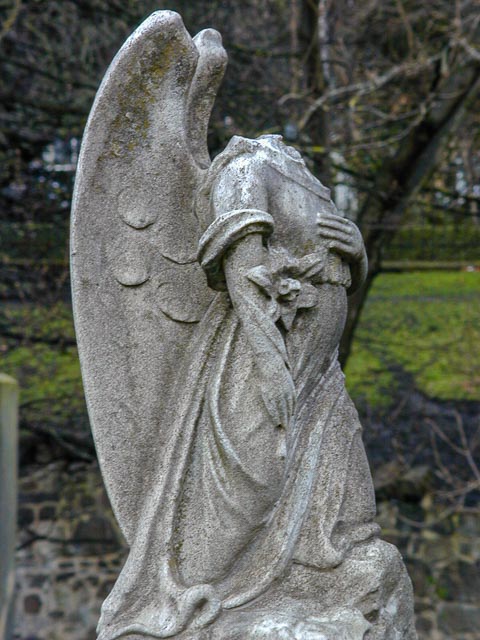 Links