Rollei 35 series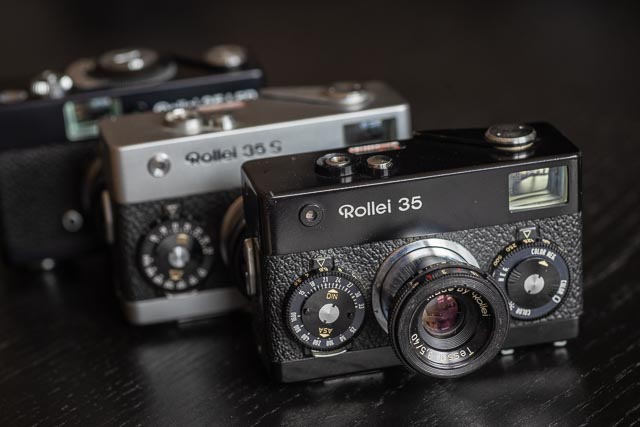 When the Rollei 35 was introduced in 1966 is created a whole new market segment: the luxury ultra-compact 35mm viewfinder camera. This is a market segment that continued to be popular right up to the end of the film era, and such cameras are still amongst the most sought after and collectable classic cameras today. If you've ever found yourself lusting after an Olympus XA, a Contaxt T series, or a Minotla TC-1, this is where is all began.
The Rollei 35 was designed by Heinz Waaske while he was working for now long gone German camera company Wirgin. When he took his a fully functioning prototype to Wirgin owner Heinrich Wirgin, he was not at all happy and accused Waaske and wasting company resources. Wirgin had actually already decided to end Wirgin camera production, but he chose this moment to drop this bombshell on Waaske.
Waaske hawked his camera around various other companies, including Leica and Kodak without success. He eventually found employment with Franke & Heidecke, the company behind the Rollei brand, and when he presented his designed to the management there, he finally found an enthusiastic backer for his little baby. He was asked to redesign the camera using components from Rollei's established component suppliers. So the lens became a 4 element f/3.5 Carl Zeiss Tessar (instead of the Steinheil lens Waaske originally envisaged) and the light meter became a state-of-the-art Gossen CdS design.
Mass production of the Rollei 35 started in 1966 in Germany and the camera was an immediate hit. These early cameras have "Made in Germany by Rollei" on the back. But in 1967 production moved to Singapore. The German cameras are quite rare and considerably more valuable than their Singapore equivilents.
Early on in the development process Rollei planned to create 3 lines of Rollei 35 cameras: a basic model and a luxury model with a more sophisticated lens were planned. In 1969 the B 35 and C 35 models were introduced with cheaper 3 element lenses, and a 1/30 to 1/125 second shutter speed range (the Rollei 35 had a 1/2 to 1/500 plus B shutter speed range). The B 35 used an older selenium cell light meter and the C 35 had no light meter at all. The luxury model didn't appear until 1971 with the launch of the Rollei 35 S. It had the same specification as the original Rollei 35, except for a more sophisticated 5 element f/2.8 Carl Zeiss Sonnar lens.
The original metered models had a swinging needle meter read out on the top plate, with no exposure information at all in the viewfinder. In 1978 the meterless C 35 model was dropped, and the B 35 model was replaced by the 35 LED with modern LED indicators in the viewfinder for exposure information. In 1979 the 35 T and 35 S models became the 35 TE and 35 SE models to indicate they too now had LED meter read outs in the viewfinder. So there was now a 3 model range with the 35 LED, 35 TE and 35 SE which were made until the early 1980s.
In more recent years Franke & Heidecke made a series of expensive limited edition models in frankly dubious taste aimed more at collectors than users.
In use.
In use the Rollei 35 is something of an acquired taste! Almost every control is in an odd place. The all-manual metering system is rather clunky requiring the eye to be taken away from the viewfinder to set aperture and shutter speed on the front mounted dials. The wind lever is on the opposite side of the camera compared to virtually ever other camera, and the flash shoe is on the bottom, making the camera rather awkward to use with a flash unit. There is no rangefinder to help with getting the focus right, and finally the film loading a bit awkard with a back that comes off completely and the battery chambre in the film compartment (just hope you battery doesn't run out with a film in there!) Film backs that come off completely for film loading were common in the 1950s, but by the 1960s they were starting to look old fashioned.
On the other hand the building quality is superb and the Tessar and Sonnar lenses are some of the best ever fitted to an ultra compact camera.
But for me, even though the Rollei 35s are a lot of fun, there are much more usable ultra compacts out there. My personal favourite is the Olympus XA which manages to avoid having a collapsable lens, had aperture priority automatic exposure and a real range finder too.
The earlier Rollei 35, Rollei 35 T and Rollei 35 S models all use the PX-625 1.35v mercury battery which were banned a long time ago, but you can still get your camera going with either an adapter for 1.35v silver oxide hearing aid batteries, or SR-44 1.55v silver oxide batteries… just bear in mind that this will lead to 2-3 stops of over exposure unless you adjust the film speed setting to compensate.
My Rollei cameras
My small collection of Rollei cameras was given to my by a freind who no longer had occaision to use them…
Rollei 35
This is an exmaple of the original Rollei 35 in black. This is the one that gets used the most. Even though it has no foncusing aids, it isn't difficult to get sharp photographs so long as you set a mid range or smaller aperture.
Photographs taken with the Rollei 35
These photographs were all taken on Kodak BW400CN film.
Rollei 35 S
This is an exmaple of the luxury Rollei 35 S in chrome with the very nice f/2.8 Sonnar lens. This one is in very nice condition except for a couple of small dings.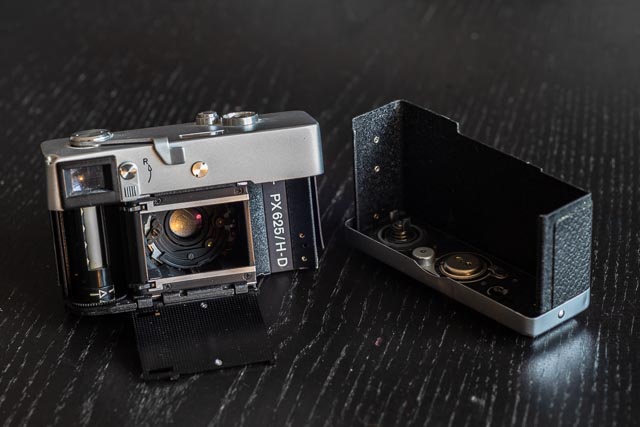 Rollei 35 LED
The is the low-end camera from the later series of cameras with LED indicators in the viewfinder for exposure information. This one is in almost mint condition.
Links