Olympus OM707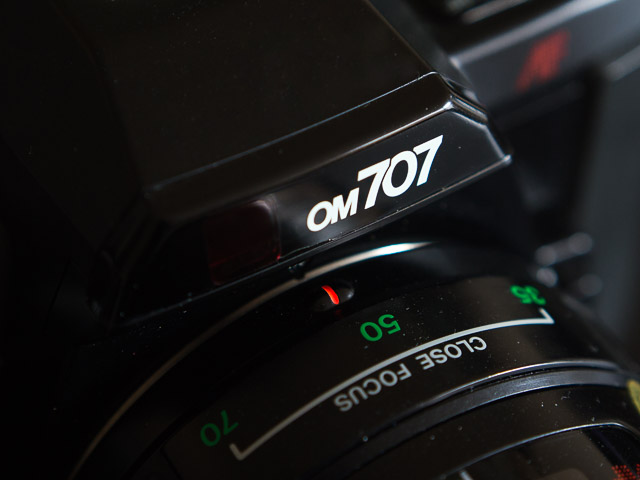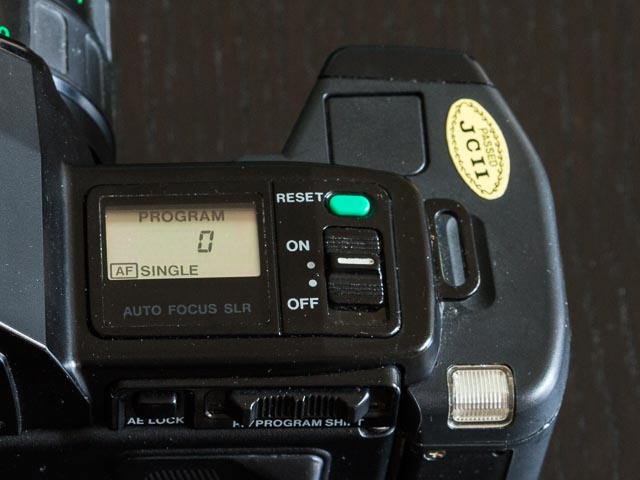 The Olympus OM707 is a camera Olympus would probably rather forget all about. But the fact that everyone else has indeed forgotten about it is probably of little comfort! The OM707 was Olympus's first and only 35mm AF SLR, and I don't think it's going too far to say that the OM707 was a disaster for Olympus: it's failure effectively brought about the end of what had been one of the iconic 35mm SLR systems of the 1970s and 1980s. The OM707 was launched in 1986, and by 1987 Olympus has practically given up on 35mm SLRs, having deleted almost their entire line-up. The only models that survived any significant time were the extremely expensive, all-mechanical OM-3Ti model, the OM101 and the not-really-an-OM-at-all OM2000.
In other words only one of Olympus's 3 post OM707 cameras was genuinely new and genuinely Olympus: that was 1988's even more forgettable power-focus-not-auto-focus OM101. 7 years later in 1995 Olympus surprised everyone by launching a mildly updated version of the all-manual, all-mechanical, OM-3 called the OM-3Ti. But by then it was nothing more than a beautiful and charming anachronism that sold for Leica-like prices to well-healed collectors. (The OM-3Ti is still a very valuable collector's item today.)  The last OM camera was OM2000 from 1997, but that camera wasn't a real Olympus at all. It was made by Cosina, and apart from the OM lens mount it wasn't compatible with any of the Olympus OM system. The OM system limped on in this state until the early 2000s.
I've always had it in my mind that the reason Olympus failed so spectacularly with the OM707 was because they were late to the AF SLR party. But when I did some research on the OM707 I found that this wasn't the case at all. In fact Olympus were among the first to act after the launch of the first true body-integral AF SLR, the Minolta Dynax 7000. Here's the chronology: Minolta launched the Dynax 7000 in 1985, Nikon launched the f/501 and Olympus the OM707 in 1986. And finally Canon launched the EOS 650 and Pentax the SFX in 1987.
In other words Olympus beat Canon to the market by some margin, and yet it was Canon that went on to thoroughly dominate both the professional and consumer 35mm AF SLR markets with their EOS system. Not only that, but Olympus launched a surprisingly comprehensive set of AF lenses for the OM707 with a set of 8 lenses with focal lengths from 24mm to 210mm, including a macro lens.
So if being late to the party wasn't the problem, why was the OM707 such a disastrous failure?
I think the first reason was that the OM707 was strictly an auto-only camera. The OM707 was, like all early AF SLRs, an expensive piece of cutting-edge technology. Yet in the minds of most camera buyers a lack of any kind of manual mode indicates a low-end beginner's camera. The OM707 did have what at the time was a highly innovate program-shift facility, so you did have some control over shutter speed and aperture. But the only way to influence the exposure value selected by the camera was an exposure lock… there was no manual mode, no exposure compensation facility and no way to manually set the film speed. So there just wasn't enough manual control to attract the kind of person who was willing to spend serious dollar on the latest cutting-edge tech.
But I don't think that was Olympus's biggest mistake with the OM707; the real disaster was the design of the lenses. The OM AF lens mount was Olympus's first attempt to modernise the OM lens mount since it was introduced in 1972, and with the OM AF lenses Olympus took the brave but fool-hardy decision to remove all controls from the lenses (except for the zoom control in the case of zoom lenses). Yes… that's right… they didn't just remove the aperture ring from their interchangeable lenses like Canon and Minolta did, they removed the focus ring too! In fact, as far as I know, Olympus was the only company to do this. There was a manual focus control on the OM707 body, but this contolled both the program-shift function and the power-focus function. So you could control aperture/shutter speed, or you could manually focus, but not both at the same time!
Like Nikon and Pentax, Olympus chose to add AF capabilities to their existing OM lens mount rather than then introduce an entirely new AF lens mount (which is what Canon and Minolta did). So you could mount an old manual focus OM lens on the OM707 without an adaptor. Doing so effectively gave you an aperture-priority auto-only camera with manual focus… but this was only an effective option for existing owners of OM lenses… if you were new to the system you weren't going to buy a duplicate set of old legacy lenses just to get proper manual focus!
The decision to make the OM707 an auto-only camera could easily have been fixed with the next camera, but the lack of a focusing control on the lenses would have been much harder to change. Lenses should be a much longer term investment than cameras. With an SLR you not just buying a camera, your buying into a camera system. People want to preserve their expensive investment in lenses by continuing using them when new cameras are launched. Understandably people were reluctant to buy lenses without focus rings and risk the possibility of rendering them useless if Olympus decided to abandon the awful on-body power-focus control on later camera bodies.
Another problem was that all though you could put older OM lenses on your OM707, the lack of a focus control (plus the lack of the normal OM lens release button) meant you couldn't use your OM AF lenses on an older OM body in manual focus mode. This was something you could do with both Nikon and Pentax AF lenses.
But failures can sometimes be interesting, even if that's only because unlike 10-a-penny successful cameras, failures tend to be rare because no-one bought them.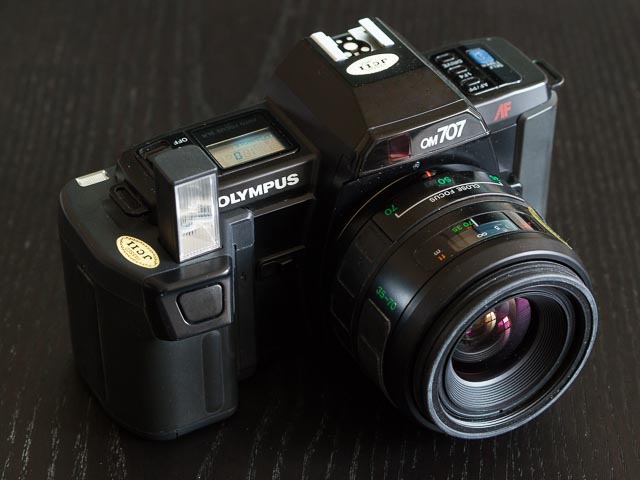 And the OM707 did have a number of highly innovative features, many of which were firsts: a program mode with program-shift functionality (Canon launched the T90 with program-shift functionality also in 1986, but I'm not sure which was first… let's call it a dead-heat!), lenses without focus controls and an on-body power-focus control (though as already discussed this was innovative but daft!), plus the first flash system with allowed flash sync at all shutter speeds with a focal-plane shutter (with the f/280 flash unit). The design had some interesting little quirks too, like the grip with a built-in pop-up flash (a smaller grip without a pop-up flash was available too).
But the list of disadvantages is much longer! There is no exposure compensation, no way to manually set the ISO setting, no depth of field preview (which was available on all previous OM cameras as the depth-of-field preview button was on the lens with older OM lenses), the power manual focusing is horrible and you can't share your new AF lenses on your old OM camera, And the final nail in the OM707 coffin is the awful handling, at least it is with the power grip 300 with the built-in flash that came with my camera. Somehow the shutter button is too low down the front of the camera and the power-focus/program shift slider control is in the wrong place, at least for left-eyed people like me… you always seem to end up jabbing your right thumb into your eye when you use it!
In fact now I have an OM707 in my hot little hands I think I've been cured of my fascination… let's just say I'm glad I only paid £11.50 for it!