Minolta Dynax 5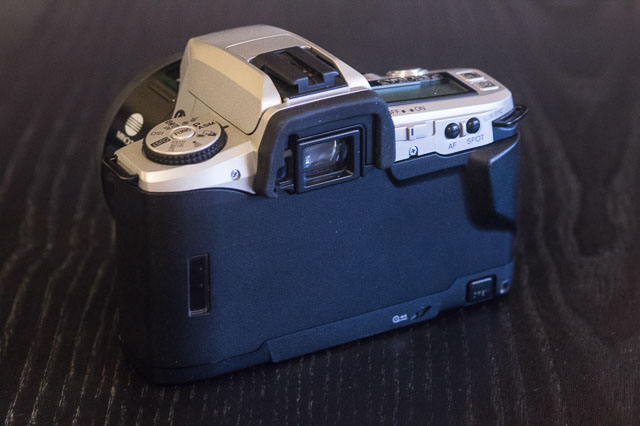 The Minolta Dynax 5 (known as the Maxxum 5 in the US and α-5 in China and α-Sweet Ⅱ in Japan), launched in 2001, was Minolta's penultimate film SLR camera. (The similar Dynax 60 of 2004 was Minolta's very last film SLR.) At 335 grams (same as the Pentax *ist) it was also its smallest and lightest SLR camera. The Dynax 5 followed on from Minolta's other cameras in it's final series of cameras, the professional Dynax 9 of 1998 and the semi-pro Dynax 7 of 2000.
This was Minolta's 'beginner's' camera of the series, with easy to use fully automatic and scene modes. But it has plenty of manual overrides too, making it a very nice ultra-compact walk-around camera for a wide range of users at all levels of experience. The build quality is a wee bit flimsy, as you'd expect from such a light-weight camera, but is still handles very nicely.
I fount this camera in a junk shop near where I live for a mere 20 quid including a very nice 50mm f/1.7 standard lens, but I haven't got around to putting a roll of film though it just yet!
Technical specification: Minolta Dynax 5

| | |
| --- | --- |
| AF points: | 6 line, 1 cross |
| AF modes: | AF-A, AF-S, AF-C |
| Custom functions: | 14 |
| Metering modes: | 14 segments, spot (2.7%) |
| Metering range: | 1-20 EV |
| Exposure modes: | P with shift, A, S, M |
| Subject modes: | portrait, landscape, closeup, sport, night portrait |
| Exposure compensation (steps): | ± 3 (1/2) |
| Flash shoe type: | iISO |
| Flash modes: | normal, red-eye reduction, slow sync |
| Flash metering modes: | ADI, 4S-TTL, CW-TTL |
| Built-in flash GN: | 12 |
| Built-in flash coverage: | 28mm |
| Flash sync speed: | 1/125 |
| Additional flash features: | HSS, Wireless flash, Wireless HSS, Ratio flash |
| Viewfinder type: | Pentamirror |
| Viewfinder coverage: | 90% |
| Viewfinder magnification: | x0.75 |
| Continuous shooting frame rate: | 3fps |
| Shutter speed range: | 30 – 1/4000, B |
| Auto bracketing frames (steps): | 3 (1/3, 1/2, 2/3, 1/1) |
| Batteries: | 2× CR2 |
| Optional battery pack: | BP-200 (4× AA) |
| Weight: | 335 grams |
| Additional features: | Eye-start, AEL button, Self-timer, Multiple exposures, Release priority, DOF preview, Leader out, ISO override |
Links
Date created: 21 April 2018