Mamiya NC1000s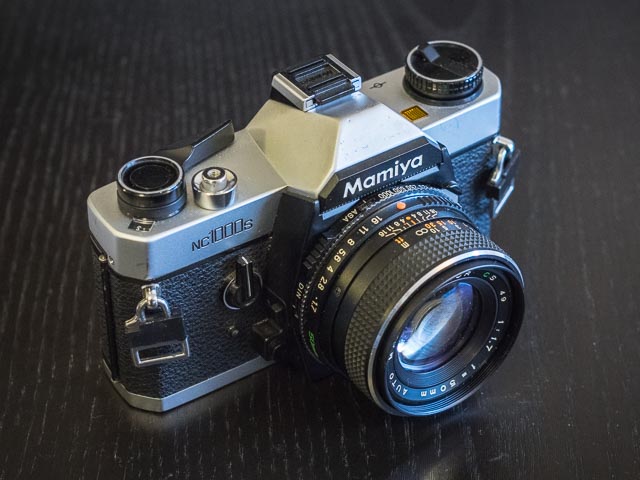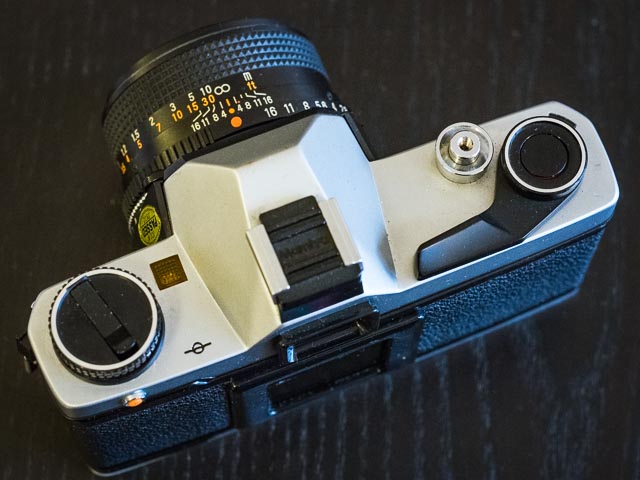 The NC1000s is a shutter speed priority automatic exposure SLR camera. It was launched in 1976 just a few months after the almost identical NC1000, which it replaced. The differences between the 2 models are minor and mainly internal. Given a choice between shutter speed priority and aperture priority automatic exposure I would always choose the latter. This is partly because, unless your subject is moving, aperture has a greater impact on the look of a photograph than shutter speed, so I would rather be in control of aperture than shutter speed. But also because I find the shutter speed dials on the top of most analogue SLR cameras can be a bit awkward to adjust with your eye to the viewfinder. But the NC1000s has the shutter speed dial around the lens mount, just like an Olympus OM1. This means you can adjust the shutter speed just as easily as aperture… effectively it's just another ring around the lens.
And the NC1000s also has the most ingenious way to switch the metering system on and off of any camera I've ever used! Just move the wind-on lever to stand-off position to unlock the shutter button and turn the metering system on. A button will pop-up above the wind-on lever and you just press the button to switch the metering system off again. Fortunately the stand-off position for the wind on lever does not stick out enough to poke this left-eyed photographer in the eye!
Mamiya produced a range of highly innovative 35mm SLRs in the 1960s, 70s and 80s. They started off with a a range of solid but not terribly exciting M42 screw mount cameras in the 1960s, and then a total of 3 different incompatible bayonet lens mount systems in the 70s and 80s. The NC1000/NC1000s was the only camera to use the middle of these 3 systems: the Mamiya CS lens mount. This constant switching of lens mounts prevented Mamiya from ever making a real impact in the 35mm SLR market, which is a shame, as they made some really nice cameras, of which I think the NC1000s is my favourite. The only problem being that you're stuck with the Mamiya CS lenses which are high quality, but hard to find.
Technical specification
Camera Type:
Ultra compact, shutter speed priority AE (Automatic Exposure) 35mm SLR with manual override.
Film and Negative Size:
35mm film, 24mm x 36mm.
Standard Lenses:
Auto Mamiya-Sekor CS Multi-Coated 50mm f/1.4 (7 elements in 6 groups, AK, automatic diaphragm, 47° angle of view, 49mm filter size).
Auto Mamiya-Sekor CS Multi-Coated 50mm f/1.7 (6 elements in 5 groups, AK, automatic diaphragm, 47° angle of view, 49mm filter size).
Lens Mount:
Mamiya CS Bayonet (three-flange, 49mm diameter) Mount
Shutter:
Electronically controlled rubberized silk focal plane shutter with range of 1/1000 - 1 sec., B (bulb).
Self-Timer:
Variable time delay of approximately 4 - 9 sec.; has its own Activating Button and can be by-passed.
Sync Terminals:
FP, X, and a Hot-Shoe for cordless flash operation.
Exposure Meter:
Ultra sensitive center-weighted CdS meter with exposure measurement range of EV 2 - 18 (100 ASA, f/1.4 lens).
Coupling:
With Mamiya-Sekor CS lenses in AE mode: ASA, shutter speed, and lens maximum aperture.
With Mamiya-Sekor CS lenses in manual mode: ASA, shutter speed, and lens maximum aperture. Working aperture is directly read from viewfinder Aperture Scale and manually set.
With preset lenses: ASA and shutter speed. Exposure measurement is by zero-method stop-down metering.
Film Speed Range:
ASA, 25 - 3200; DIN 15 - 36.
Viewfinder:
Large, brilliant pentaprism SLR viewing. Exposure Meter Indicator Needle, Aperture Scale, and Stop Down Metering Index Mark visible in viewfinder. Magnification of 0.94X with 50mm lens at infinity. Three-way focusing: Central rangefinder wedge at 45° angle surrounded by a microprism collar which is located in a matte field, with finely-grooved Fresnel lens for even illumination.
Mirror:
Quick-return mirror, coated for increased reflectance.
Film Advance Lever:
Single-action type with short 130° throw and stand-off angle of 15°, double-exposure prevention, and with Meter OFF Button incorporated into lever (Meter OFF Button also doubles as Shutter Release Button Lock).
Exposure Counter:
Additive type with automatic reset.
Power Source:
Two 1.5V silver oxide batteries (Eveready S-76, Ray0-Vac RS-76, Mallory MS-76 or equivalent) supply the power for the electronic shutter and exposure meter.
Dimensions and Weight:
Body only: 136 x 83 x 50mm 510g
With f/1. 4 lens: 136 x 83 x 89mm 715g
With f/1.7 lens: 136x83x81mm 655g
Mamiya CS lenses
Mamiya made a fairly small range of lenses in the CS mount. The full range is listed below:
14mm f/3.5 Fisheye
21mm f/2.8
28mm f/2.8
35mm f/2.8
50mm f/1.4
50mm f/1.7
50mm f/2.0
50mm f/3.5 Macro
135mm f/2.8
200mm f/3.5
300mm f/3.5
45-90mm f/3.5 Zoom
50-135mm f/3.8 Zoom
80-200mm f/3.8 Zoom
My Mamiya NC1000s system
Mamiya-Sekor CS 28mm f/2.8
The most common wide angle lens in the Mamiya CS system and the only one that is reasonably easy to find.
Mamiya-Sekor CS 50mm f/1.7
The standard lens for the Mamiya CS system.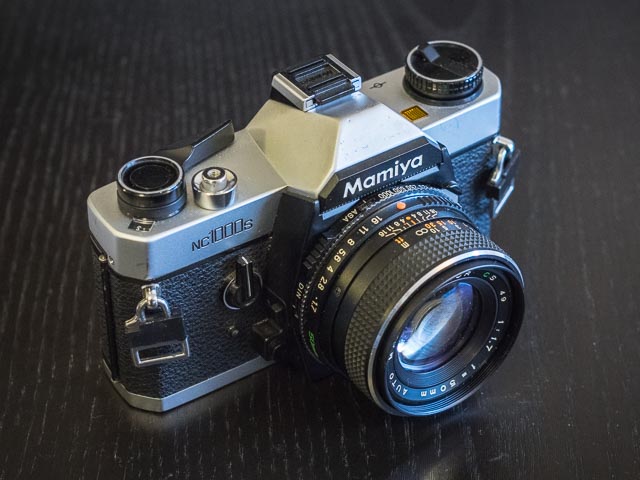 Mamiya-Sekor CS 50mm f/3.5 Macro
Probably my favourite of my 3 Mamiya CS lenses. Below you can see it foucses at infinity and racked out to it's closest distance of half life size.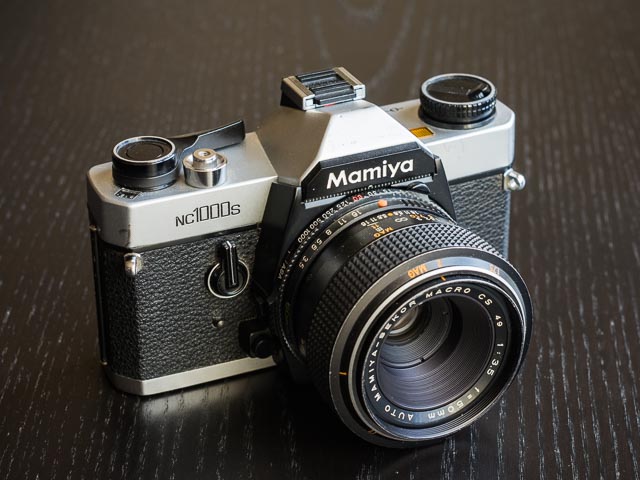 Photographs taken with the Mamiya NC1000s
All these photographs were shot on Kodak Portra 160.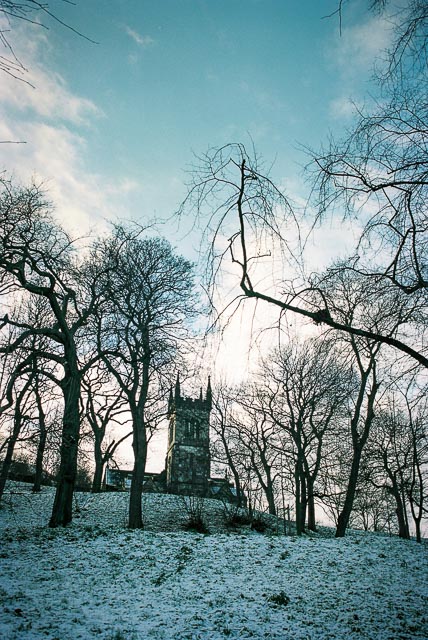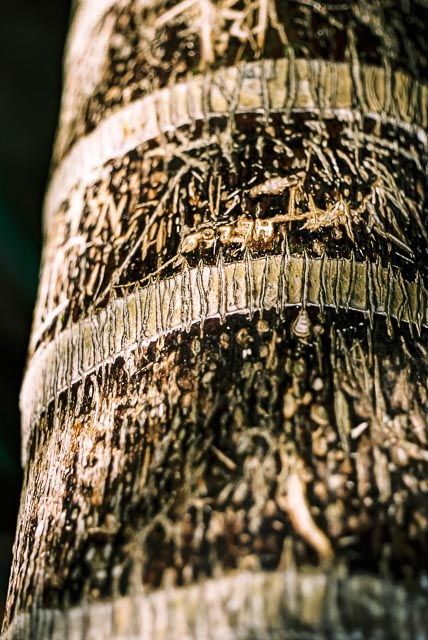 Links