Fujica AX-5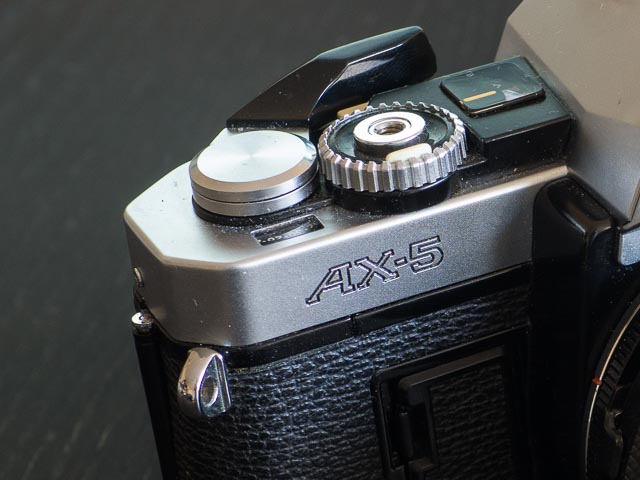 In the late 1970s and early 1980s most of the big Japanese camera companies (and a few of the smaller ones!) were rushing to introduce so-called 'multi-mode' automatic SLRs at the top of their consumer SLR ranges. Up to this point if you wanted an automatic SLR camera you had to choose between a shutter speed priority camera (you set the shutter speed and then the camera sets an appropriate aperture) or an aperture priority camera (you set the aperture and the camera sets the shutter speed).
But if you wanted a camera that would do both you would have had to wait until Minolta introduced their XD-7 model in 1977. Canon launched the A-1 in 1978, and Nikon and Pentax followed suit with the Pentax Super A (Pentax Super Programme in some markets) and the Nikon FA in 1983. The Canon, Nikon and Pentax models all added a full programmed mode with the camera setting both the shutter speed and aperture. Minolta didn't introduce a camera with the full suite of automatic modes to a camera until they launched their first autofocus camera (the 7000) in 1985. The remaining member of the 'Big 5' group of Japanese companies, Olympus, never fully participated in this market, though their OM-2 SP and OM-40 models did have both aperture priority and fully programmed modes.
But the smaller companies also added models to their ranges with the full suite of automatic modes. Mamiya had the ZE-X, Leica the R4 and Fujica (Fuji branded their film cameras as Fujica at the time) had the camera you see here, the AX-5, launched in 1980. The AX-5 was at the top of a range of cameras that included the AX-3 (aperture priority automatic plus manual) and AX-1 (aperture priority automatic only).
Fujica used what I would consider the simplest and most logical method of setting the different exposure modes: both the shutter speed dial on the camera, and the aperture ring on the lens had automatic positions (labeled 'AE' on the shutter speed dial and labeled with a diamond on the aperture ring). Set the shutter speed dial to automatic to ask the camera to set the shutter speed automatically (i.e. aperture priority), set the aperture ring to the diamond to ask the camera to set the aperture automatically (i.e. shutter speed priority) and set both dial to their automatic position for fully programmed automatic exposure. Set neither to automatic for manual mode.
You can see all these modes below:
Technical specification: Fujica AX-5
Light metering range:
ISO/ASA 100: EV0-19 (F1.4 2 sec. - f/22 1/1000 sec).
Film speed setting:
ISO/ASA 12-3200, 1/3rd step, provision for locking.
Exposure compensation:
+/- 1 stop by means of camera's fractional exposure control (film speed selector).
AE Lock (Exposure Memory):
The meter reading can be locked when the shutter speed selector is set to AEL by pressing the shutter release halfway down and holding it there.
Depth of Field Preview:
Pushbutton
Manual Exposure:
By setting both the shutter speed and aperture manually and making adjustments by checking the settingsagainst the LED aperture indicator in the viewfinder.
Shutter:
Cloth focal-plane: electronically controlled from 2-1/1000 sec. in 1/4 steps (digital control); oilless metal.
Power Source:
6v silver-oxide battery (4SR44), alkaline-manganese battery 4LR44) or lithium battery.
Battery Condition Signal:
Blinking of a red LED in the viewfinder opposite the letter B on the shutter speed scale.
Main Switch:
On/off switch located on camera top; also serves as self-timer switch.
Shutter Release:
Two-step electromagnetic release; first step activates light meter and view-finder information circuit, second step completes exposure; provided with meter button.
Multiple Exposure:
BY winding film while pressing the film rewind button.
Self-timer:
Electronically controlled; trips shutter in 12 seconds; emits audible signal.
Sync Contact:
X-contact, 1/60 sec. hotshoe; special contact for exclusive flash; provided with sync terminal.
Auto-flash system:
Automatic shutter speed setting with exclusive flash; automatic flash exposure.
Camera Back:
Snaps open when the film rewind crank is pulled out; can be removed and replaced with a data back (Fujica Photo Recorser, optional) for printing data on film.
Film Loading:
Multiple-slit take-up spool for easy loading.
Film Advance:
Single-stroke leave on camera top; provision for advancing film in small increments; 144°, 25° stand-off.
Exposure Counter:
Automatic reset. additive; counts backwards during film rewind, remains still during multiple exposure.
Film Rewind:
Rewind button and crank; button returns to normal position when crank is wound.
Dimensions:
Body: 135 x 86 x 54mm
With f/1.6/50mm lens: 135 x 86 x 87mm
Weight:
Body: 525 g.
F1.6/50mm lens: 695 g.
Included Accessories:
carrying strap, lens front cap.
My Fujica AX-5 system
Fuji produced quite a wide range of lenses for the Fujica AX mount. The main range of lenses were designated X-Fujinon DM, and there was a small range cheaper lenses designated X-Fujinar. Fixed-focal length X-Fujinon DM lenses went all the way from 16mm to 400mm and included a super fast an f/1.2 50mm standard lens, a 16mm fisheye lens and a 55mm macro lens. There were 4 zoom lenses: a 29-47mm, a 43-75mm, a 75-150mm and an 85-225mm. I have just two lenses, the X-Fujinon DM 55mm f/1.6 standard lens and the X-Fujinar Z 80-200mm f/3.8.
X-Fujinon DM 55mm f/1.6
When the Fujica AX system was launched Fuji used the 55mm focal length for the standard lenses. But these were soon replaced by 50mm equivilents. So this is an early lens.
X-Fujinar Z 80-200mm f/3.8
This is one of Fuji's cheaper X-Fujinar lenses. These designs were probably brought in from an other company and rebranded as X-Fujinar Z lenses. But this design has a more modern specification than the nearest X-Fujinon DM (the 85-225mm f/4.5) so maybe it is a little it more useful.
Links