Kodak Schneider-Kreuznach Carousel Procolar 100mm
I bought this lens, along with a Kodak VARIO-RETINAR 75-120mm varifocal lens, for a bargain price right after getting my 1st projector lens (my beloved Enna München MC Ennalyt 90mm f/2.5). But I didn't realise that Kodak Carousel lenses are much larger than lenses for regular 35mm slide projectors. Far too big, in fact, to fit in my standard M52-M42 36-90mm focussing helicoid that I use for most such lenses. So they sat untouched in my gear cupboard until my recent purchase of a larger M59-M59 36-90mm focussing helicoid for another project. It turns out this focussing helicoid is just the right size for Kodak Carousel lenses, so I was excited to finally try out this lens!
Excited because this is a lens from one of the most storied German lens manufacturers, and made for one of the most famous brands of professional 35mm slide projector, the Kodak Carousel. So this lens was bound to just blow my socks off…... right?
As it turns out, this lens was pretty disappointing. Though, to be far, given my sky-high expectations, maybe this lens was always going to struggle to match up to them. BUt before we get into the results, let's look at how I adapted this lens. Here is a complete list of everything I used: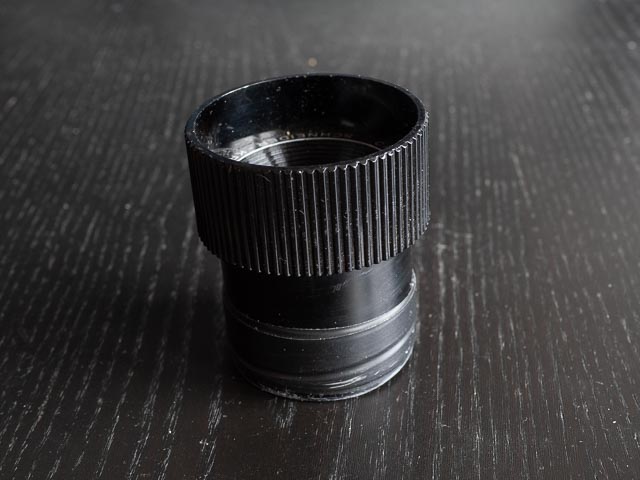 Now these Kodak Carousel lenses don't just have a bigger diameter than a normal 35mm slide projector lens, they are also much longer… too long to be used in the longest 36-90mm focussing helicoid I could find. Fortunately most of the lens is just completely empty pastic tubing. So I took a hack saw to my lens and just sawed off the bottom 7 or 8cms or so of the lens barrel. Not as difficult as you think, but of course you won't be able to go back to using this lens in a Kodak Carousel projector, to you needs to be sure you won't want to do that before starting. And here you can see the lens in it's new much shorter form.
You can also just about see just a few layers of black electrical wounds around the base of the lens to ensure a snug fit. You will need to add and remove layers of the electrical tape until the fit is perfect. It was then just a simple matter of putting the lens in to the focussing helicoid and then screwing on the adapters to complete the lens.
Results
So as I intimated above, I was rather disappointed with this lens. The results just weren't very sharp. Now, I've often said that I don't think that sharpness a very over-rated metric for judging a lens, and I stand by that. And I did get some results from this lens that I grew to quite like. BUt sharpness maybe over-rated, but that doesn't mean it has now importance at all! And there's no doubt that this lens doesn't come close to the sharpness of the best projector lenses I have used like the Enna München MC Ennalyt 90mm f/2.5, Isco-Optic V/S-Projar 90mm f/2.4 MC or Leitz Colorplan 90mm f/2.5 lenses.
Let's start be looking at some photographs shot at middle to long focussing distances, which it where this lens is left most wanted for sharpness. The first two colour photographs were processed in Adobe Lightroom, while the second two black and white ons were processed, as usual, in NikSilver Efex Pro 2:
These two shot display a lot of veiling flare resulting in rather low contrast, which I think rather suits these winter sunrise photographs. But in other shots this could be rather a problem.
Even downsized to resolutions suitable for a web page, these black and white photographs show, I think, somewhat less than ideal resolving power and a general rendering that I'm not terribly keen on, though maybe it will grow on me. An and perhaps the biggest problem was my rather unfair expectations against which I was judging these lenses!
Here's one more at a longer focussing distance which is perhaps more representative of most of my photographs taken with this lens. this lens is more-or-less straight out of camera… all I did was hit the "auto" button in the Adobe light room to fix the under-exposure.
Interestingly this is another one of those lenses that perhaps shows more potential at marco focussing distances, and to facilitate that it works well mounted reversed on the focussing helicoid as illustrated here. Wehn mounted reversed the lens does not fit inside the helicoid, so I used photographer's putty to stick it ot the end of the helicoid. This is isn't as stable as ideal, but it still worked well for some table top photgraphy at home. You'd have to be careful if taking this combination out into the field mounted like this though!
The bokeh at macro focussing distances tend to be what I would call "characterful", but not uninteresting.
In conclusion I would say this is not one of my favourite projection lenses, and not one I would really recommend looking out for or spedning a lot of money on, but if you happen to have one lying around, and you're sure you don't want to ever use it again in a projector, I think it's worth the effort of adapting. And it's still one I'm happy to have in my collection… perhaps it will grow on me!